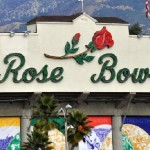 Subject to availability, some of our Tours allow you to upgrade and add the Rose Bowl Game to your package. An extra charge per person applies, but only for those in your party who choose to attend the game.
When making your reservations, indicate that you would like to add the Rose Bowl Game to your itinerary.

(Note that the Rose Bowl Game replaces some activities on your original tour itinerary for January 1st.)
Rose Bowl Game Upgrade Highlights:
With the upgrade, you will still enjoy the Tournament of Roses Parade with your original travel party.
Following the Parade, join others who are going to the game. Enjoy a deluxe box lunch aboard your motor coach as you travel to the stadium.
Attend the Rose Bowl Game, also known as "the granddaddy of them all." Experience the thrill of one of America's greatest sporting events in one of its most beloved stadiums.
Following the game, your motor coach will transport you back to your hotel.
Adding the Rose Bowl Game is subject to availability and an extra charge applies.
Rates are quoted per person and include all taxes and are in addition to the price of your tour.
Rose Bowl Upgrade Rate: $575 per person