This slideshow requires JavaScript.
Al Brooks Rose Bowl Tours has hosted thousands of visitors to the Rose Parade and Rose Bowl Game over the years. Now in our seventh decade, and with an ever-growing list of satisfied customers, we're the most trusted name in Rose Bowl tours.
We specialize in tours to the Rose Bowl and Rose Parade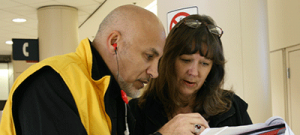 Experience matters when selecting a tour company. Because we specialize in tours to the Rose Bowl and Rose Parade, you can be sure that you'll have an enjoyable, relaxing and fun time during your visit to Southern California. And though we're in our seventh decade, we still plan every detail with the care and attention our many first-time guests deserve.
We have a great team
The Al Brooks team is comprised of seasoned veterans who work together to provide great tours. This includes knowledgeable and friendly guides to escort you to all scheduled events during your stay. And it includes a team of detail-oriented staff working behind the scenes (and around-the-clock) to make your tour a success.
We build on our rich heritage every year
As a family-owned business in our third generation, we're proud of our heritage and reputation. For this reason, we listen to our customers and staff and strive to improve our tours every year. It's also why our customers consistently give us such high ratings.
Please join us this year as we celebrate the Tournament of Roses Parade and the Rose Bowl Game.
Call
(800) 228-4849

for reservations or information